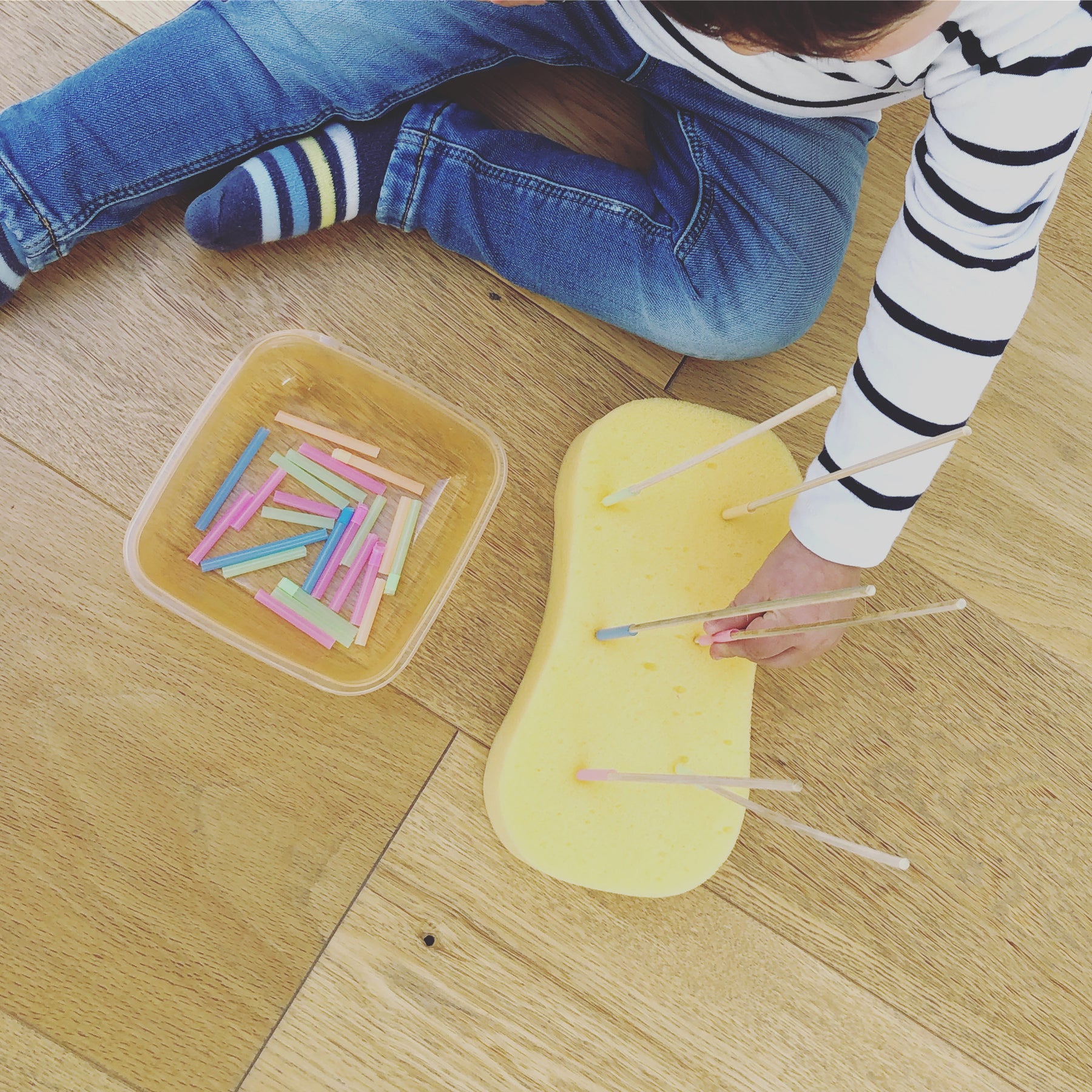 Tutorial: Sponge and Sticks Fun
When you find yourself feeling creative with a little bit of time on your hands to sit down with your little one, this activity would be perfect. 
Alex likes to call it "sponge and sticks" and it does what it says on the tin! It keeps him entertained for up to 30 minutes and you only need 3 items, which can easily be found around the house. 
What you need
A big sponge
5-8 wooden skewers or sticks
Colourful straws cut into 5cm/2inch pieces 
Instructions
Insert the wooden sticks into the sponge. 

Place one straw piece on each stick, then ask your child to place the remaining straws on the wooden sticks.
If your child is a bit younger you might want to start by letting them put the straws on and off the sticks. This can be challenging enough for a Mini Maker of around 18months old.
If your child is a bit older, you can encourage them to match the straws by colour or to create patterns. This can be a lot of fun for both of you. 
Why we love this activity
We've found this activity very rewarding. The fact that you sit down on the floor with your little one is surely going to be rewarded with a big smile but on top of that it provides great educational opportunities. 
By asking your child to put the straws onto the sticks you not only enable them to practice their fine motor skills but also help to develop their spatial awareness. By looking at the straws and the sticks children make sense of what they see (visual perception) and by trying to insert the straws onto the sticks they learn to navigate their environment (motor planning). In other words you help them to learn the concept of direction, distance and location. 
By using colourful straws you allow your child to practise colours and making patterns. The last one is especially aimed at older children, as it helps them to make logical connections and teaches them to use their reasoning skills. 
You can spend 10, 15 or even 30 minutes occupying your little maker with a lot of fun along the way... just keep an extra eye on the little ones as their spatial awareness might not be as good at first and we wouldn't want them to poke themselves in an eye.
Let us know if your Mini Maker enjoyed this activity or better yet tag us in your photos on Instagram or Facebook and use the hashtag #MyMiniMaker so we can share in the fun.