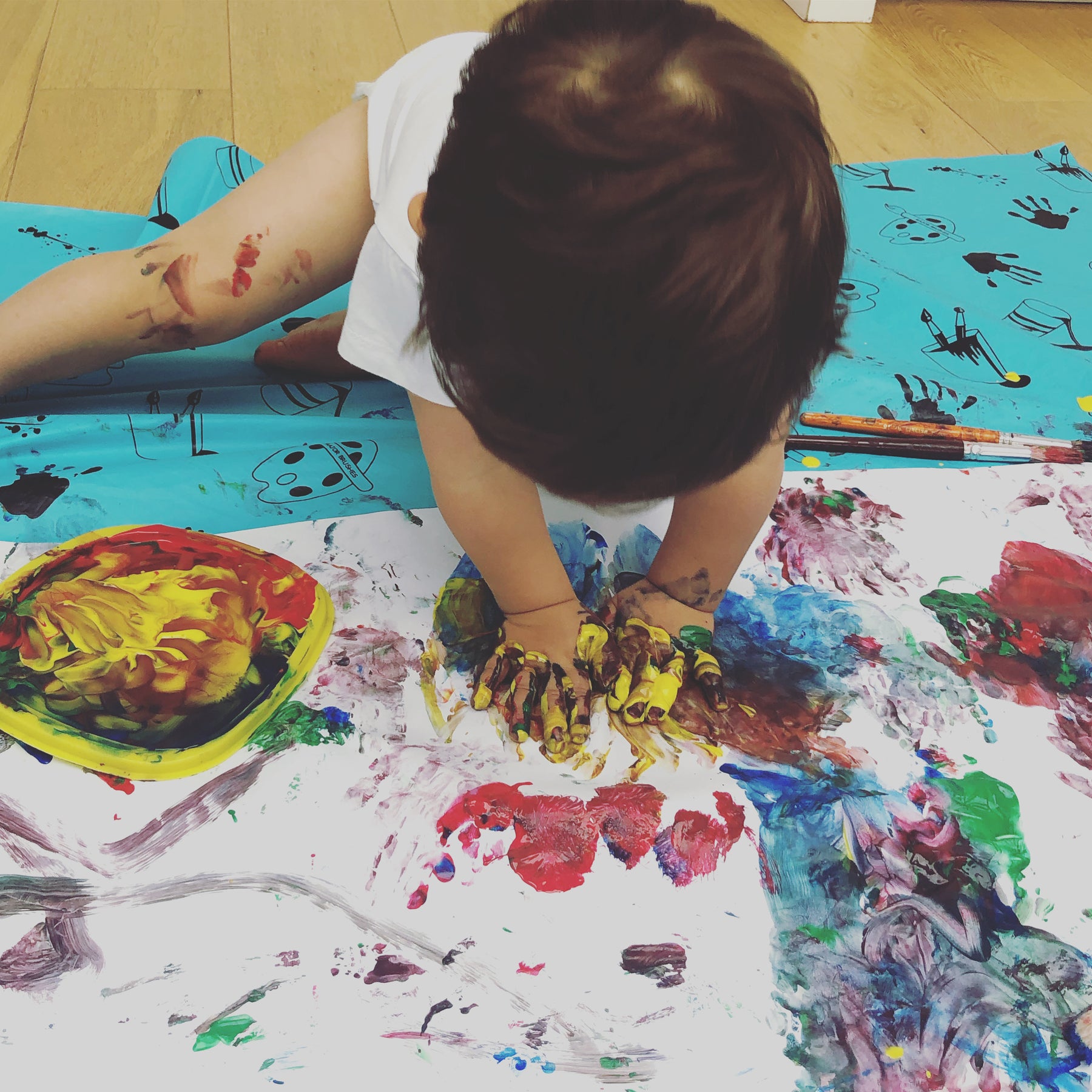 How to get started: Crafting with toddlers
As parents we all know how our children love making art and crafts and we all understand what a positive impact it has on their development. It doesn't only develops fine motor skills or spatial awareness but helps them develop problem solving skills and reasoning. By counting they are exposed to basics of math and by experimenting with different materials they are introduced to elements of science. However, most importantly making art and crafts helps to boost their self confidence and helps them express their emotions. 
Usually, we associate a huge mess with arts and crafts but it doesn't have to be like that. We have a tendency of avoiding these kinds of activities at home instead attending messy play or art and crafts classes elsewhere, or at least we did before 2020. However, with yet another lockdown in place and the weather getting colder we might need to get over our fears of glue and paint so here are our tips and tricks to get started with crafts at home.
Essential Items
Here are the key items we find we use time after time and you'll find them very helpful while getting all arty and crafty: 
A splash mat will prevent the surface from paint, glue and scissors damage. It can be used anywhere: on the table, on the floor or even in the garden. Our top tip here is getting one you can throw in the washing machine too to minimise clean up.

A smock, apron or a bigger sized t-shirt which you can put over your child's clothes to keep  them clean and which you can easily wash.  Personally we love the

Close Parent bibs

and they're fun animal patterns

Wet wipes or if you prefer to be more eco friendly we would recommend using reusable wipes like Cheeky Wipes.

Kitchen roll or paper towels for spillages...and we can assure your there will be plenty of them!

An old jar or a cup to dispose dirty paintbrushes/peelings of the stickers 

Child's size scissors. For left handed children there are special scissors available here.

Washable markers, crayons, glue and glue spreaders are always useful.
Ready to get started - our top tips
While doing art and crafts with younger children we would recommend setting them up in the high chair as it helps to contain the mess. This also helps them to focus better as they tend to have a short attention span. 
For older children who are already out of high chairs we would recommend covering the chair with an old towel or a big cloth in order to avoid stains on non-wipeable surfaces. When you are finished you simply wipe your child's hands or take them to the sink to wash up and then let them go to play while you quickly do the tidying up. 
During messy play on the floor always use a splash mat and explain your child that messy play stays on the mat. We recommend making sure that the sink is empty and clean of any foods and we would suggest placing an extra towel nearby before starting messy play. 
When finished, wipe off the worst of the mess while still on the mat and then take the child to the sink to clean them properly. Don't be afraid to put them in the sink as they usually find it hilarious! Just make sure they don't slip or turn the hot water on tap accidentally. Never leave your child in the sink unattended. 
Once your child is clean and dressed, we would recommend placing them in a high chair with a book or a few toys to occupy them while you tidy up any mess on the floor. 
Most importantly have fun, don't freak out with the mess and enjoy making fun memories together. We'd love to see what you make so feel free to tag us on Instagram or Facebook @myminimaker or use the hashtag #MyMiniMaker.
*some of the links in this post may earn us a small referral fee just to be transparent