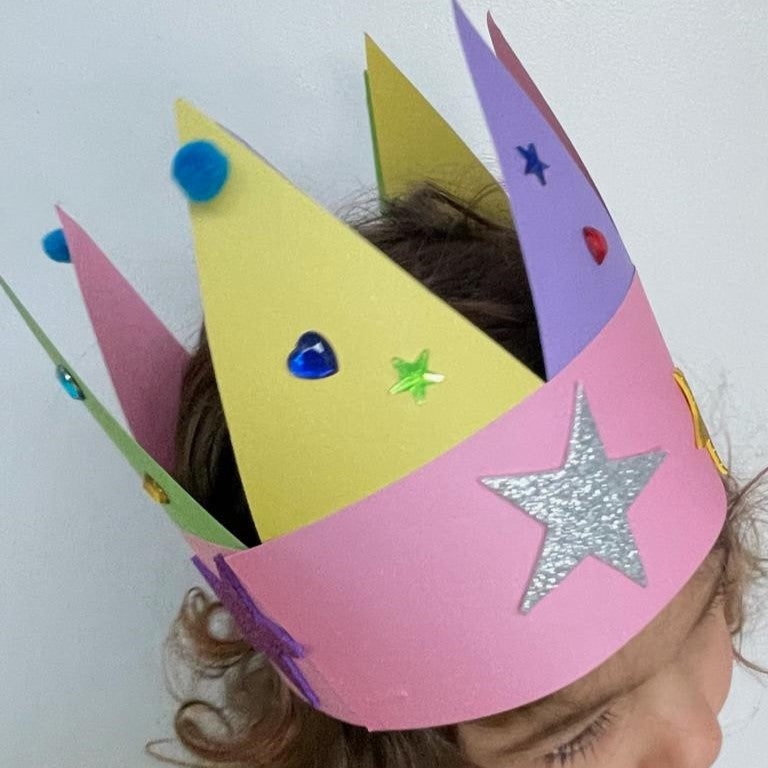 Free Crown Craft Activity: Building Coordination
Making a Crown
What could be better than making your own crown, it's fun to make and even better to play with.

Building Coordination and Imaginative Play
Using scissors is really important as it helps develop hand-eye coordination where they learn to watch where they are cutting and use their eyes to guide how they should move next. Mastering this skill is helpful in playing sports, cooking and everyday life.  There are lots more benefits that you can find here
Through imaginative play children learn critical thinking skills, how to follow simple directions, build expressive and receptive language, increase social skills and learn how to manage their emotions.
What You'll Need
White card
Coloured card
Gems, stickers and pompoms (whatever you have)
Glue
Stapler
Scissors
Instructions
Cut two 7cm wide strips and staple them together.
Wrap the long strip around your child's head to measure and create a headband.
Cut off any excess paper.
Cut 10-12 coloured triangles (10cm tall, 7cm wide at the bottom).
Have your child glue the triangles onto the headband.
Decorate with gems, stickers, and pompoms.
Wait for it to dry, then staple it together to make a crown.