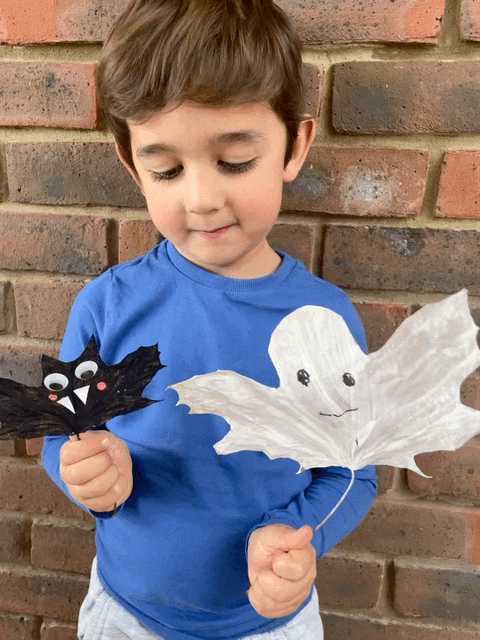 Free Halloween Ghost and Bat Craft Activity: Strengthening Little Hands
Making Ghosts and Bats
What could be better than using some of those leaves that little ones love to pick up.  With this Halloween activity you can make some spooky ghosts and bats, encourage your little one to go and collect some beautiful leaves in the park and then we can paint them to create ghosts and bats.
This activity provides your child with great opportunities to develop their eye and hand coordination by using a paintbrush to paint. Choosing colours and making a design on the paper supports their creativity
Painting and strengthening little hands 
Even though painting might be a bit messy it is a great tool to improve your child's fine motor skills. Painting doesn't have to be limited to a paintbrush and we can use pegs and pompoms, mops, hands, sponges, and straws.
Giving your child a paintbrush or asking them to pick up a pompom with a peg provides them with a great opportunity to use their pincer grasp which is so necessary in handwriting. The process of stamping or painting with a paintbrush strengthens your little one's fingers and allows them to practise hand-eye coordination. Find out more here
What You'll Need
Variety of leaves
White and black paint
Paintbrush
Paper
Paper towel
Googly eyes, white card (optional)
Instructions
Go for a walk and collect some leaves
Paint the leaves to make either bats or ghosts and let the paint dry
Decorate the Ghosts and Bats with eyes and teeth