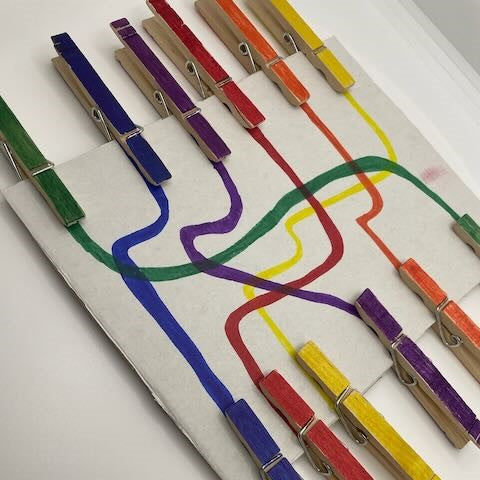 Free Colour Matching Activity: Strengthening Little Hands
Colour Matching Activity
This activity gives your child the opportunity to practise colours and pincer grasp, which supports their handwriting skills. This activity can be reused over and over again. A great set to be kept in your bag to use as an entertainment in a coffee shop etc.

Pincer Grip 
The pincer grip is the coordination of the index finger and thumb to hold an item. Each time you hold a pen, peg or button your shirt, you're using the pincer grip.

While it may seem like second nature to an adult, to a child this is an important milestone in their development. Strengthening the muscles in their hand will enable them to confidently hold their pencil or pen. 
What You'll Need
Square cardboard
12 wooden pegs
6 different colours of markers
Instructions
Colour the pegs in 6 different colours (2 pegs in each colour)
Clip 6 pegs on the left side of the cardboard and draw a wiggly line from the peg to the other side of the cardboard. Make sure each line is in the same colour as the peg.
Ask your child to trace over the line from the peg to the other side with their finger and match the remaining 6 coloured pegs to each line .

By engaging in these activities, children will become more confident with colours and strengthen their hands. It's win-win!